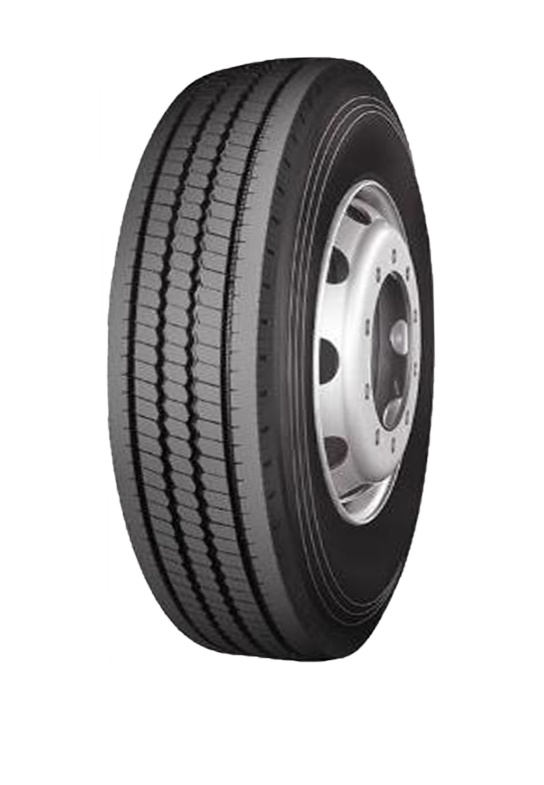 115
Comprehensive performance formula designed to provide excellent wear resistance and low heat generation performance of the tire.
Four-ply belt construction provides excellent high-speed durability and ride comfortability; unique bead structure design provides the tire with excellent bead durability performance.
Has a low rolling resistance, providing the tire with excellent fuel efficiency.
Highway pattern, suitable for highway, general road and urban highway.
Sizes and Specs
Wheel Dia.
Tire Size
Load index&Speed Symbols
L.R
Tread Depth
(mm)
Inflated
Dimensions
Rim
Overall
Dia.(mm)
Overall
Width(mm)
202
10.00R20
149/146L
18
15
1054
278
7.5
11.00R20
152/149L
18
15
1085
293
8
12.00R20
154/151L
18
15
1125
315
8.5
22.5
8R22.5
128/126M
12
13
935
203
6
9R22.5
136/134M
14
14.5
974
229
6.75
11R22.5
148/145M
16
15
1054
279
8.25
12R22.5
152/149L
18
16.5
1085
300
9
13R22.5
154/151L
18
16
1124
320
9.75
295/80R22.5
152/149L
18
16
1044
298
9
315/80R22.5
156/150L
20
16.5
1076
312
9
Wheel Dia.
Tire Size
Load index&Speed Symbols
L.R
Tread Depth
(mm)
Inflated
Dimensions
Rim
Overall
Dia.(mm)
Overall
Width(mm)
20
10.00R20
149/146L
18
15
1054
278
7.5
11.00R20
152/149L
18
15
1085
293
8
12.00R20
154/151L
18
15
1125
315
8.5
Wheel Dia.
Tire Size
Load index&Speed Symbols
L.R
Tread Depth
(mm)
Inflated
Dimensions
Rim
Overall
Dia.(mm)
Overall
Width(mm)
22.5
8R22.5
128/126M
12
13
935
203
6
9R22.5
136/134M
14
14.5
974
229
6.75
11R22.5
148/145M
16
15
1054
279
8.25
12R22.5
152/149L
18
16.5
1085
300
9
13R22.5
154/151L
18
16
1124
320
9.75
295/80R22.5
152/149L
18
16
1044
298
9
315/80R22.5
156/150L
20
16.5
1076
312
9
Feedback