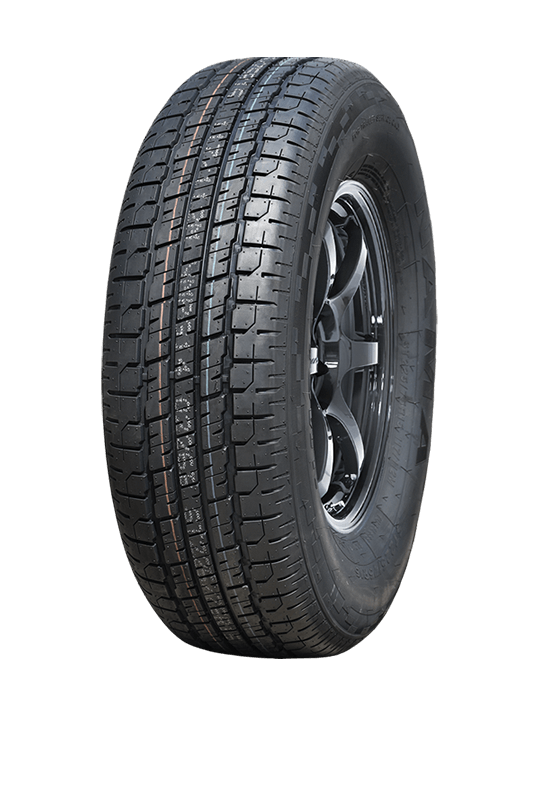 NM616
NAMA ST Tire is in the top class level in China! Compared with other competitors, NAMA ST is supplied from better facilities, with higher advanced machines and technology.
EQUIPMENT LEVEL
Under most circumstances, other ST factories in the tire industry are transformed from bias tire factories. Whereas, all of NAMA ST tire are made by Saferich, it is called "Chinese VMI", an advanced equipment brand which ensures the uniformity of tires.
New & proprietary tread design, major breakthrough on traditional, outmoded ST pattern.
Regular depth, eco-friendly and cost effective.
Sizes and Specs
Wheel Dia.
Tire Size
L.R
Tread Depth
(1/32")
Inflated
Dimensions
Rim
Overall
Dia.(in.)
Overall
Width(in.)
13
ST175/80R13
91/87M
C/6PR
7.8
24.02
6.97
5J
92/89M
D/8PR
7.8
24.02
6.97
5J
ST185/80R13
94/89M
C/6PR
7.8
24.65
7.32
5J
99/95M
D/8PR
7.8
24.65
7.32
5J
14
ST205/75R14
100/96M
C/6PR
7.8
26.14
7.99
5.5J
105/101M
D/8PR
7.8
26.14
7.99
5.5J
ST215/75R14
102/98M
C/6PR
7.8
26.69
8.50
6J
109/106M
D/8PR
7.8
26.69
8.50
6J
15
ST205/75R15
107/102M
D/8PR
7.8
27.13
7.99
5.5J
111/106M
E/10PR
7.8
27.13
7.99
5.5J
ST225/75R15
113/108M
D/8PR
7.8
28.31
8.78
6J
117/112M
E/10PR
7.8
28.31
8.78
6J
16
ST235/80R16
123/119M
E/10PR
8
30.79
9.25
6.5J
126/122M
F/12PR
8
30.79
9.25
6.5J
ST235/85R16
125/121M
E/10PR
8
31.73
9.25
6.5J
128/124M
F/12PR
8
31.73
9.25
6.5J
132/127M
G/14PR
8
31.73
9.25
6.5J
Wheel Dia.
Tire Size
L.R
Tread Depth
(1/32")
Inflated
Dimensions
Rim
Overall
Dia.(in.)
Overall
Width(in.)
13
ST175/80R13
91/87M
C/6PR
7.8
24.02
6.97
5J
92/89M
D/8PR
7.8
24.02
6.97
5J
ST185/80R13
94/89M
C/6PR
7.8
24.65
7.32
5J
99/95M
D/8PR
7.8
24.65
7.32
5J
Wheel Dia.
Tire Size
L.R
Tread Depth
(1/32")
Inflated
Dimensions
Rim
Overall
Dia.(in.)
Overall
Width(in.)
14
ST205/75R14
100/96M
C/6PR
7.8
26.14
7.99
5.5J
105/101M
D/8PR
7.8
26.14
7.99
5.5J
ST215/75R14
102/98M
C/6PR
7.8
26.69
8.50
6J
109/106M
D/8PR
7.8
26.69
8.50
6J
Wheel Dia.
Tire Size
L.R
Tread Depth
(1/32")
Inflated
Dimensions
Rim
Overall
Dia.(in.)
Overall
Width(in.)
15
ST205/75R15
107/102M
D/8PR
7.8
27.13
7.99
5.5J
111/106M
E/10PR
7.8
27.13
7.99
5.5J
ST225/75R15
113/108M
D/8PR
7.8
28.31
8.78
6J
117/112M
E/10PR
7.8
28.31
8.78
6J
Wheel Dia.
Tire Size
L.R
Tread Depth
(1/32")
Inflated
Dimensions
Rim
Overall
Dia.(in.)
Overall
Width(in.)
16
ST235/80R16
123/119M
E/10PR
8
30.79
9.25
6.5J
126/122M
F/12PR
8
30.79
9.25
6.5J
ST235/85R16
125/121M
E/10PR
8
31.73
9.25
6.5J
128/124M
F/12PR
8
31.73
9.25
6.5J
132/127M
G/14PR
8
31.73
9.25
6.5J
Feedback