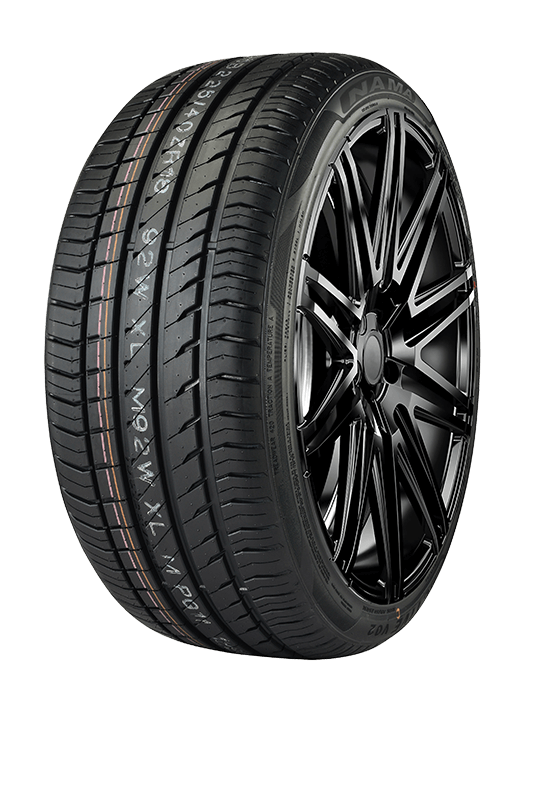 MASSE294
Excellent RFV result--dynamic balance & uniformity ability: NAMA RFT tire RFV is 10kgf, better than the normal brands (30-40 kgf) to provides the superior driving comfort.
Enhanced rubber and high-strength steel for reinforced bead area to reduce tire flat risk;
Technical team from major brand with special ingredients.
Tread ingredient white carbon black plus butadiene rubber which makes the tire sidewall no cracking and lower rolling resistance; Strong enough but comfortable driving
Sizes and Specs
ALL size
16"
17"
18"
19"
20"
Wheel Dia.
Tire Size
Load index&Speed
Inflated
Dimensions
Rim
UTQG
Overall
Dia(mm)
Overall
Width(mm)
16
225/55ZR16
99W
654
233
7J
420 A A
17
205/50ZR17
93W
638
214
6½J
420 A A
205/55ZR17
91W
658
214
6½J
420 A A
225/45R17
94W
634
225
7½J
420 A A
225/50ZR17
94W
658
233
7J
420 A A
225/60R17
99H
702
228
6½J
420 A A
245/45ZR17
99W XL
652
243
8J
420 A A
18
225/40ZR18
92W XL
637
230
8J
420 A A
225/45ZR18
95W XL
659
225
7½J
420 A A
225/50ZR18
99W
683
233
7J
420 A A
235/50ZR18
101W XL
693
245
7½J
420 A A
235/55ZR18
104W XL
715
245
7½J
420 A A
245/45ZR18
100W
677
243
8J
420 A A
245/50ZR18
100W
703
253
7½J
420 A A
255/35ZR18
94W XL
635
260
9J
420 A A
255/45ZR18
103W XL
687
255
8½J
420 A A
255/40ZR18
99W
661
260
9J
420 A A
19
225/35ZR19
88W XL
641
230
8J
420 A A
235/35ZR19
91W XL
647
241
8½J
420 A A
235/55ZR19
105W
741
245
7½J
420 A A
245/40ZR19
98W
679
248
8½J
420 A A
245/45ZR19
102W XL
703
243
8J
420 A A
255/40ZR19
100W
687
260
9J
420 A A
255/50ZR19
103W
739
265
8J
420 A A
255/55ZR19
111W
763
265
8J
420 A A
275/35ZR19
100W
675
278
9½J
420 A A
275/40ZR19
105W
703
278
9½J
420 A A
20
245/35ZR20
95W XL
680
248
8½J
420 A A
245/40ZR20
99W
704
248
8½J
420 A A
245/45ZR20
103W
728
243
8J
420 A A
255/50ZR20
109W
764
265
8J
420 A A
275/35ZR20
102W
700
278
9½J
420 A A
275/40R20
106W XL
728
278
9½J
420 A A
315/35ZR20
110W
728
320
11J
420 A A
Wheel Dia.
Tire Size
Load index&Speed
Inflated
Dimensions
Rim
UTQG
Overall
Dia(mm)
Overall
Width(mm)
16
225/55ZR16
99W
654
233
7J
420 A A
Wheel Dia.
Tire Size
Load index&Speed
Inflated
Dimensions
Rim
UTQG
Overall
Dia(mm)
Overall
Width(mm)
17
205/50ZR17
93W
638
214
6½J
420 A A
205/55ZR17
91W
658
214
6½J
420 A A
225/45R17
94W
634
225
7½J
420 A A
225/50ZR17
94W
658
233
7J
420 A A
225/60R17
99H
702
228
6½J
420 A A
245/45ZR17
99W XL
652
243
8J
420 A A
Wheel Dia.
Tire Size
Load index&Speed
Inflated
Dimensions
Rim
UTQG
Overall
Dia(mm)
Overall
Width(mm)
18
225/40ZR18
92W XL
637
230
8J
420 A A
225/45ZR18
95W XL
659
225
7½J
420 A A
225/50ZR18
99W
683
233
7J
420 A A
235/50ZR18
101W XL
693
245
7½J
420 A A
235/55ZR18
104W XL
715
245
7½J
420 A A
245/45ZR18
100W
677
243
8J
420 A A
245/50ZR18
100W
703
253
7½J
420 A A
255/35ZR18
94W XL
635
260
9J
420 A A
255/45ZR18
103W XL
687
255
8½J
420 A A
255/40ZR18
99W
661
260
9J
420 A A
Wheel Dia.
Tire Size
Load index&Speed
Inflated
Dimensions
Rim
UTQG
Overall
Dia(mm)
Overall
Width(mm)
19
225/35ZR19
88W XL
641
230
8J
420 A A
235/35ZR19
91W XL
647
241
8½J
420 A A
235/55ZR19
105W
741
245
7½J
420 A A
245/40ZR19
98W
679
248
8½J
420 A A
245/45ZR19
102W XL
703
243
8J
420 A A
255/40ZR19
100W
687
260
9J
420 A A
255/50ZR19
103W
739
265
8J
420 A A
255/55ZR19
111W
763
265
8J
420 A A
275/35ZR19
100W
675
278
9½J
420 A A
275/40ZR19
105W
703
278
9½J
420 A A
Wheel Dia.
Tire Size
Load index&Speed
Inflated
Dimensions
Rim
UTQG
Overall
Dia(mm)
Overall
Width(mm)
20
245/35ZR20
95W XL
680
248
8½J
420 A A
245/40ZR20
99W
704
248
8½J
420 A A
245/45ZR20
103W
728
243
8J
420 A A
255/50ZR20
109W
764
265
8J
420 A A
275/35ZR20
102W
700
278
9½J
420 A A
275/40R20
106W XL
728
278
9½J
420 A A
315/35ZR20
110W
728
320
11J
420 A A
Feedback