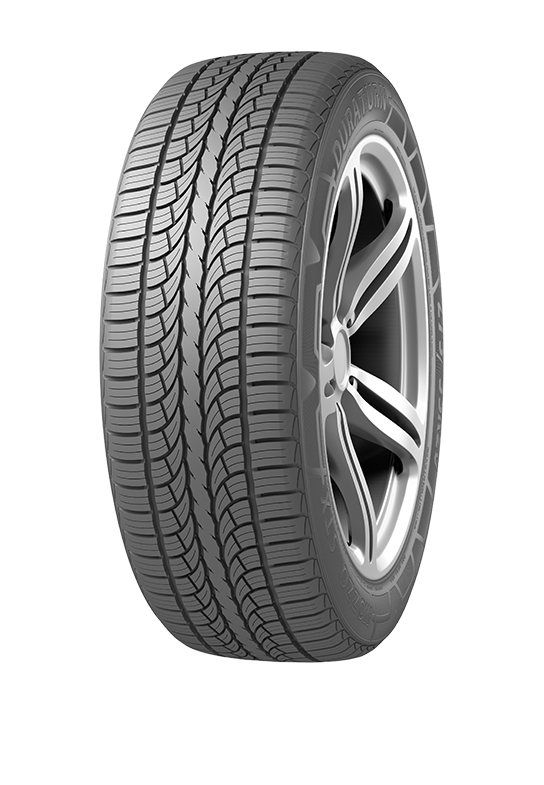 NeoSport Stx
Fairshaped pattern designe to improve drainage performance and low noise.
High abrasion tread compound combined with widened tread width to enhance expected mileage markedly.
Specially designed bead curve can effectively protect against overwear and avoid early damage.
Wide middle pattern block to enhance excellent riding stability at high speed.
Advanced production process and equipment to provide excellent dynamic balance performance.
Sizes and Specs
ALL size
17"
20"
22"
24"
26"
Wheel Dia.
Tire Size
Load index&Speed
Inflated
Dimensions
Rim
UTQG
Overall
Dia(mm)
Overall
Width(mm)
17
225/60R17
103V XL
702
228
6.5
460AA
225/65R17
106V XL
724
228
6.5
460AA
20
245/40R20
99W XL
704
248
8.5
460AA
265/50R20
111V XL
774
277
8.5
460AA
275/40R20
106V XL
728
278
9.5
460AA
275/40R20
106W XL
728
278
9.5
460AA
275/45R20
110V XL
756
273
9
460AA
275/45R20
110W XL
756
273
9
460AA
275/55R20
117V XL
810
284
8.5
460AA
275/60R20
115V
838
279
8
460AA
285/50R20
116V XL
794
297
9
460AA
22
265/35R22
102V XL
745
271
9.5
460AA
265/40R22
106V XL
771
271
9.5
460AA
285/45R22
114V XL
815
285
9.5
460AA
305/40R22
114V XL
803
313
11
460AA
305/45R22
118V XL
833
303
10
460AA
24
295/35R24
110V XL
816
301
10.5
460AA
305/35R24
112V XL
824
313
11
460AA
26
295/30R26
107W XL
838
301
10.5
460AA
305/30R26
109V XL
844
313
11
460AA
Wheel Dia.
Tire Size
Load index&Speed
Inflated
Dimensions
Rim
UTQG
Overall
Dia(mm)
Overall
Width(mm)
17
225/60R17
103V XL
702
228
6.5
460AA
225/65R17
106V XL
724
228
6.5
460AA
Wheel Dia.
Tire Size
Load index&Speed
Inflated
Dimensions
Rim
UTQG
Overall
Dia(mm)
Overall
Width(mm)
20
245/40R20
99W XL
704
248
8.5
460AA
265/50R20
111V XL
774
277
8.5
460AA
275/40R20
106V XL
728
278
9.5
460AA
275/40R20
106W XL
728
278
9.5
460AA
275/45R20
110V XL
756
273
9
460AA
275/45R20
110W XL
756
273
9
460AA
275/55R20
117V XL
810
284
8.5
460AA
275/60R20
115V
838
279
8
460AA
285/50R20
116V XL
794
297
9
460AA
Wheel Dia.
Tire Size
Load index&Speed
Inflated
Dimensions
Rim
UTQG
Overall
Dia(mm)
Overall
Width(mm)
22
265/35R22
102V XL
745
271
9.5
460AA
265/40R22
106V XL
771
271
9.5
460AA
285/45R22
114V XL
815
285
9.5
460AA
305/40R22
114V XL
803
313
11
460AA
305/45R22
118V XL
833
303
10
460AA
Wheel Dia.
Tire Size
Load index&Speed
Inflated
Dimensions
Rim
UTQG
Overall
Dia(mm)
Overall
Width(mm)
24
295/35R24
110V XL
816
301
10.5
460AA
305/35R24
112V XL
824
313
11
460AA
Wheel Dia.
Tire Size
Load index&Speed
Inflated
Dimensions
Rim
UTQG
Overall
Dia(mm)
Overall
Width(mm)
26
295/30R26
107W XL
838
301
10.5
460AA
305/30R26
109V XL
844
313
11
460AA
Feedback