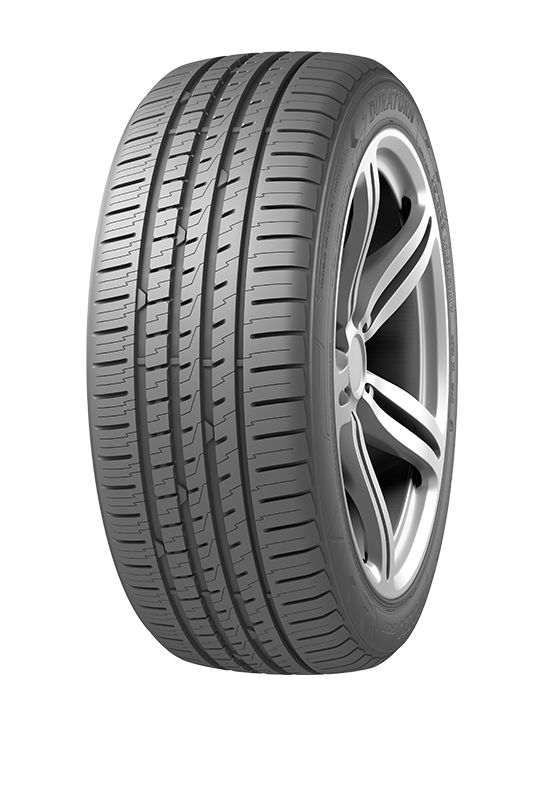 NeoSport
High turn-up belt structure combined with specially designed bead curve can effectively avoid early damage.
Silicious compound to enhance low rolling resistance.
Asymmetric pattern to provide excellent handling performance.
Unique noise reduction technology to provide quiet driving experience.
Special compound combined with multiple steel disc to enhance outstanding wet grip.
Advanced production process and equipment to provide excellent dynamic balance performance.
Sizes and Specs
ALL size
15"
16"
17"
18"
19"
20"
Wheel Dia.
Tire Size
Load index&Speed
Inflated
Dimensions
Rim
UTQG
Overall
Dia(mm)
Overall
Width(mm)
15
185/45R15
75V
547
183
6
500AA
16
205/55R16
91W
632
214
6.5
500AA
215/55R16
97W XL
642
226
7
500AA
225/55R16
99W XL
654
233
7
500AA
235/60R16
104W XL
688
240
7
500AA
205/55R16
94W XL
632
214
6.5
500AA
17
205/40R17
84W XL
596
212
7.5
500AA
205/50R17
93W XL
638
214
6.5
500AA
215/45R17
91W XL
626
213
7
500AA
215/50R17
95W XL
648
226
7
500AA
225/45R17
94W XL
634
225
7.5
500AA
225/50R17
98W XL
658
233
7
500AA
225/55R17
101W XL
680
233
7
500AA
235/45R17
97W XL
644
236
8
500AA
235/50R17
100W XL
668
245
7.5
500AA
235/55R17
103W XL
690
245
7.5
500AA
245/45R17
99W XL
652
243
8
500AA
255/40R17
98W XL
636
260
9
500AA
195/45R17
85W XL
608
195
6.5
500AA
195/45R17
81W
608
195
6.5
500AA
18
215/40R18
89W XL
629
218
7.5
500AA
225/40R18
92W XL
637
230
8
500AA
225/45R18
95W XL
659
225
7.5
500AA
235/40R18
95W XL
645
241
8.5
500AA
235/50R18
101W XL
693
245
7.5
500AA
235/60R18
107W XL
739
240
7
500AA
245/40R18
97W XL
653
248
8.5
500AA
245/45R18
100W XL
677
243
8
500AA
245/50R18
104W XL
703
253
7.5
500AA
255/35R18
94Y XL
635
260
9
500AA
255/45R18
103W XL
687
255
8.5
500AA
255/55R18
109W XL
737
265
8
500AA
265/35R18
97Y XL
643
271
9.5
500AA
19
215/35R19
85Y XL
633
218
7.5
500AA
225/35R19
88Y XL
641
230
8
500AA
225/40R19
93W XL
663
230
8
500AA
235/35R19
91Y XL
647
241
8.5
500AA
245/35R19
93Y XL
655
248
8.5
500AA
245/40R19
98W XL
679
248
8.5
500AA
245/45R19
102W XL
703
243
8
500AA
255/40R19
100W XL
687
260
9
500AA
255/45R19
104W XL
713
255
8.5
500AA
255/50R19
107W XL
739
265
8
500AA
265/30R19
93Y XL
643
271
9.5
500AA
275/30R19
96Y XL
649
278
9.5
500AA
20
225/35R20
90Y XL
666
230
8
500AA
225/35R20
93Y XL
666
230
8
500AA
245/30R20
95W XL
656
248
8.5
500AA
245/35R20
95Y XL
680
248
8.5
500AA
245/45R20
99W
728
243
8
500AA
255/35R20
97Y XL
686
260
9
500AA
275/30R20
97Y XL
674
278
9.5
500AA
275/40R20
106W XL
728
278
9.5
500AA
245/30R20
97W XL
656
248
8.5
500AA
255/35R20
102Y XL
686
260
9
500AA
Wheel Dia.
Tire Size
Load index&Speed
Inflated
Dimensions
Rim
UTQG
Overall
Dia(mm)
Overall
Width(mm)
15
185/45R15
75V
547
183
6
500AA
Wheel Dia.
Tire Size
Load index&Speed
Inflated
Dimensions
Rim
UTQG
Overall
Dia(mm)
Overall
Width(mm)
16
205/55R16
91W
632
214
6.5
500AA
215/55R16
97W XL
642
226
7
500AA
225/55R16
99W XL
654
233
7
500AA
235/60R16
104W XL
688
240
7
500AA
205/55R16
94W XL
632
214
6.5
500AA
Wheel Dia.
Tire Size
Load index&Speed
Inflated
Dimensions
Rim
UTQG
Overall
Dia(mm)
Overall
Width(mm)
17
205/40R17
84W XL
596
212
7.5
500AA
205/50R17
93W XL
638
214
6.5
500AA
215/45R17
91W XL
626
213
7
500AA
215/50R17
95W XL
648
226
7
500AA
225/45R17
94W XL
634
225
7.5
500AA
225/50R17
98W XL
658
233
7
500AA
225/55R17
101W XL
680
233
7
500AA
235/45R17
97W XL
644
236
8
500AA
235/50R17
100W XL
668
245
7.5
500AA
235/55R17
103W XL
690
245
7.5
500AA
245/45R17
99W XL
652
243
8
500AA
255/40R17
98W XL
636
260
9
500AA
195/45R17
85W XL
608
195
6.5
500AA
195/45R17
81W
608
195
6.5
500AA
Wheel Dia.
Tire Size
Load index&Speed
Inflated
Dimensions
Rim
UTQG
Overall
Dia(mm)
Overall
Width(mm)
18
215/40R18
89W XL
629
218
7.5
500AA
225/40R18
92W XL
637
230
8
500AA
225/45R18
95W XL
659
225
7.5
500AA
235/40R18
95W XL
645
241
8.5
500AA
235/50R18
101W XL
693
245
7.5
500AA
235/60R18
107W XL
739
240
7
500AA
245/40R18
97W XL
653
248
8.5
500AA
245/45R18
100W XL
677
243
8
500AA
245/50R18
104W XL
703
253
7.5
500AA
255/35R18
94Y XL
635
260
9
500AA
255/45R18
103W XL
687
255
8.5
500AA
255/55R18
109W XL
737
265
8
500AA
265/35R18
97Y XL
643
271
9.5
500AA
Wheel Dia.
Tire Size
Load index&Speed
Inflated
Dimensions
Rim
UTQG
Overall
Dia(mm)
Overall
Width(mm)
19
215/35R19
85Y XL
633
218
7.5
500AA
225/35R19
88Y XL
641
230
8
500AA
225/40R19
93W XL
663
230
8
500AA
235/35R19
91Y XL
647
241
8.5
500AA
245/35R19
93Y XL
655
248
8.5
500AA
245/40R19
98W XL
679
248
8.5
500AA
245/45R19
102W XL
703
243
8
500AA
255/40R19
100W XL
687
260
9
500AA
255/45R19
104W XL
713
255
8.5
500AA
255/50R19
107W XL
739
265
8
500AA
265/30R19
93Y XL
643
271
9.5
500AA
275/30R19
96Y XL
649
278
9.5
500AA
Wheel Dia.
Tire Size
Load index&Speed
Inflated
Dimensions
Rim
UTQG
Overall
Dia(mm)
Overall
Width(mm)
20
225/35R20
90Y XL
666
230
8
500AA
225/35R20
93Y XL
666
230
8
500AA
245/30R20
95W XL
656
248
8.5
500AA
245/35R20
95Y XL
680
248
8.5
500AA
245/45R20
99W
728
243
8
500AA
255/35R20
97Y XL
686
260
9
500AA
275/30R20
97Y XL
674
278
9.5
500AA
275/40R20
106W XL
728
278
9.5
500AA
245/30R20
97W XL
656
248
8.5
500AA
255/35R20
102Y XL
686
260
9
500AA
Feedback