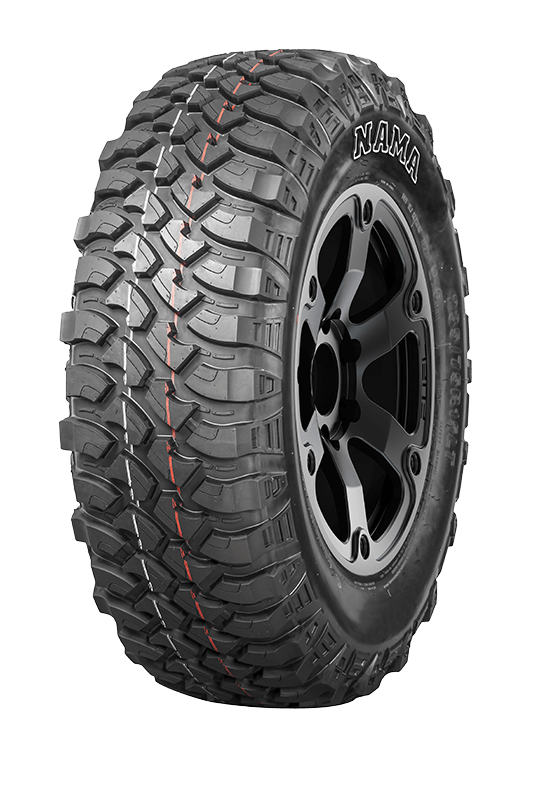 MASSE521
3-PLY CARCASS CONSTRUCTION:
Contributes to impact resistance and steering stability in On and Off-road conditions.
ENHANCED SHOULDER DESIGN:
Prevent shoulder puncture and tearing in rough road conditions.
ULTRA-WIDE TREAD WIDTH:
Contributes to Mud terrain grip and traction in off-road conditions.
ANTI-PUNCTURE COMPOUND:
Offer maximum tear resistance and durability at same time.
ENGAGE PATTERN BLOCKS:
Prevent aquaplaning with enhanced grip on unpaved road, handling and provide excellent water and mud evacuation.
Sizes and Specs
Wheel Dia.
Tire Size
L.R
Inflated
Dimensions
Rim
Overall
Dia.(mm)
Section
Width(mm)
15
31×10.50R15LT
109Q
C/6PR
781
268
8½J
33×12.50R15LT
108Q
C/6PR
832
318
10J
215/75R15LT
100/97Q
C/6PR
709
216
6 J
235/75R15LT
104/101Q
C/6PR
739
235
6½J
16
225/75R16LT
115/112Q
E/10PR
750
223
6 J
235/70R16LT
110/107Q
D/8PR
742
240
7 J
235/85R16LT
120/116Q
E/10PR
812
235
6 ½J
245/75R16LT
120/116Q
E/10PR
780
248
7 J
265/75R16LT
123/120Q
E/10PR
810
267
7½J
285/75R16LT
126/123Q
E/10PR
840
286
8 J
17
265/70R17LT
121/118Q
E/10PR
810
272
8 J
285/70R17LT
121/118Q
D/8PR
838
292
8½J
Wheel Dia.
Tire Size
L.R
Inflated
Dimensions
Rim
Overall
Dia.(mm)
Section
Width(mm)
15
31×10.50R15LT
109Q
C/6PR
781
268
8½J
33×12.50R15LT
108Q
C/6PR
832
318
10J
215/75R15LT
100/97Q
C/6PR
709
216
6 J
235/75R15LT
104/101Q
C/6PR
739
235
6½J
Wheel Dia.
Tire Size
L.R
Inflated
Dimensions
Rim
Overall
Dia.(mm)
Section
Width(mm)
16
225/75R16LT
115/112Q
E/10PR
750
223
6 J
235/70R16LT
110/107Q
D/8PR
742
240
7 J
235/85R16LT
120/116Q
E/10PR
812
235
6 ½J
245/75R16LT
120/116Q
E/10PR
780
248
7 J
265/75R16LT
123/120Q
E/10PR
810
267
7½J
285/75R16LT
126/123Q
E/10PR
840
286
8 J
Wheel Dia.
Tire Size
L.R
Inflated
Dimensions
Rim
Overall
Dia.(mm)
Section
Width(mm)
17
265/70R17LT
121/118Q
E/10PR
810
272
8 J
285/70R17LT
121/118Q
D/8PR
838
292
8½J
Feedback