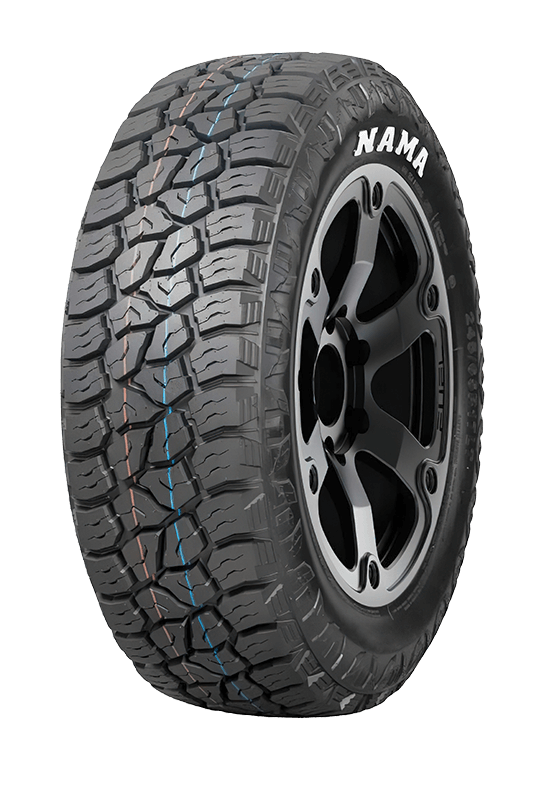 MASSE520
3-PLY CARCASS CONSTRUCTION:
Contributes to impact resistance and steering stability in On and Off-road conditions.
ENHANCED SHOULDER DESIGN:
Prevent shoulder puncture and tearing in rough road conditions.
REINFORCED BLOCK FOUNDATION:
Provides rigidity and cross-country traction to tread blocks.
ANTI-PUNCTURE COMPOUND:
Offer maximum tear resistance and durability at same time.
WEDGE BLOCK DESIGN:
Contributes to great grip and braking performance.
Sizes and Specs
Wheel Dia.
Tire Size
L.R
Inflated
Dimensions
Rim
UTQG
Overall
Dia.(mm)
Section
Width(mm)
15
235/75R15LT
116/113Q
E/10PR
739
235
6 1/2J


16
245/70R16LT
113/110S
D/8PR
750
248
7 J


265/70R16LT
117/114R
D/8PR
778
272
8J


265/75R16LT
123/120Q
E/10PR
810
267
7 J


245/75R16LT
120/116Q
E/10PR
780
248
6 1/2J


235/70R16
106T


736
240
7 J
560 A B
17
225/65R17LT
107/103S
D/8PR
724
228
6 1/2 J


235/65R17LT
109/105S
D/8PR
738
240
7J


245/65R17LT
111/108S
D/8PR
750
248
7J


245/70R17LT
119/116Q
E/10PR
776
248
7J


265/65R17LT
120/117S
E/10PR
776
272
8 J


265/70R17LT
121/118Q
E/10PR
800
272
8J


285/70R17LT
121/118Q
E/10PR
827
289
8 1/2 J


245/75R17LT
121/118Q
E/10PR
796
244
7 J


315/70R17LT
121/118R
E/10PR
874
323
9 1/2 J


18
265/60R18LT
119/116S
E/10PR
775
272
8 J


285/60R18LT
118/115S
D/8PR
799
292
8 1/2 J


235/65R18LT
113/110Q
D/8PR
763
240
7J


265/70R18LT
124/121Q
E/10PR
829
272
8J


285/65R18LT
121/118Q
D/8PR
823
294
8 1/2 J


19
235/55R19LT
105/101Q
D/8PR
740
256
7 1/2J


255/50R19LT
107/103Q
D/8PR
738
276
8J


255/55R19
111T


763
265
8J
560 A B
Wheel Dia.
Tire Size
L.R
Inflated
Dimensions
Rim
UTQG
Overall
Dia.(mm)
Section
Width(mm)
16
245/70R16LT
113/110S
D/8PR
750
248
7 J


265/70R16LT
117/114R
D/8PR
778
272
8J


265/75R16LT
123/120Q
E/10PR
810
267
7 J


245/75R16LT
120/116Q
E/10PR
780
248
6 1/2J


235/70R16
106T


736
240
7 J
560 A B
Wheel Dia.
Tire Size
L.R
Inflated
Dimensions
Rim
UTQG
Overall
Dia.(mm)
Section
Width(mm)
17
225/65R17LT
107/103S
D/8PR
724
228
6 1/2 J


235/65R17LT
109/105S
D/8PR
738
240
7J


245/65R17LT
111/108S
D/8PR
750
248
7J


245/70R17LT
119/116Q
E/10PR
776
248
7J


265/65R17LT
120/117S
E/10PR
776
272
8 J


265/70R17LT
121/118Q
E/10PR
800
272
8J


285/70R17LT
121/118Q
E/10PR
827
289
8 1/2 J


245/75R17LT
121/118Q
E/10PR
796
244
7 J


315/70R17LT
121/118R
E/10PR
874
323
9 1/2 J


Wheel Dia.
Tire Size
L.R
Inflated
Dimensions
Rim
UTQG
Overall
Dia.(mm)
Section
Width(mm)
18
265/60R18LT
119/116S
E/10PR
775
272
8 J


285/60R18LT
118/115S
D/8PR
799
292
8 1/2 J


235/65R18LT
113/110Q
D/8PR
763
240
7J


265/70R18LT
124/121Q
E/10PR
829
272
8J


285/65R18LT
121/118Q
D/8PR
823
294
8 1/2 J


Wheel Dia.
Tire Size
L.R
Inflated
Dimensions
Rim
UTQG
Overall
Dia.(mm)
Section
Width(mm)
19
235/55R19LT
105/101Q
D/8PR
740
256
7 1/2J


255/50R19LT
107/103Q
D/8PR
738
276
8J


255/55R19
111T


763
265
8J
560 A B
Feedback