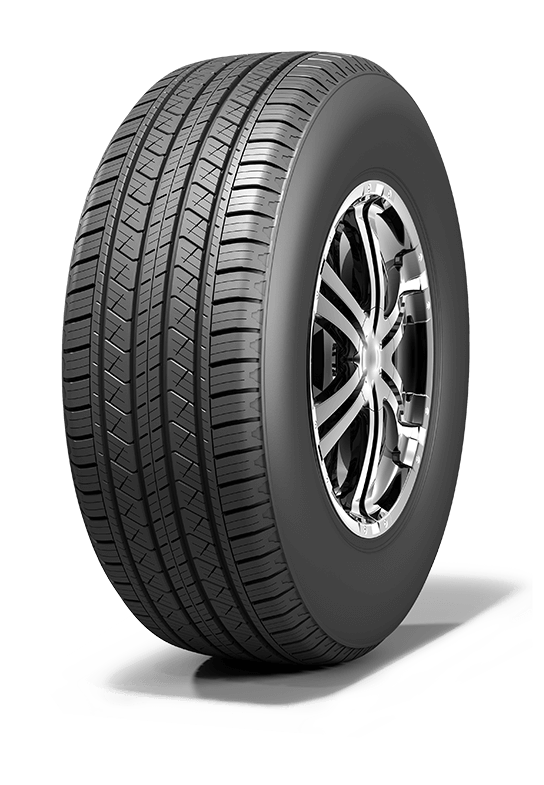 MAXAGGRES H/T NM-76
Extra wide driving surface provide more contact with the road surface, creating more stability. Excellent handling and braking performance. NAMA HT driving surface is 3.0-5.0 mm wider.
Circumferential straight center rib design enhances the straight-line stability at high speed.
Unique shoulder RIB design reduce irregular wear and minimize road noise.

FEA simulation design ensure the uniformity of tire carcass to avoid abnormal bubbling.

The advanced Multiangle 3D sipes to enable high grip and shorten braking distances, improve drainage and heat dissipation performance.

Unique Center rib combined with matrix arrangement of both sides patterns to minimum road noise at high -speed.
Sizes and Specs
Wheel Dia.
Tire Size
Tread Depth
(1/32")
Inflated
Dimensions
Rim
UTQG
Overall
Dia.(in.)
Overall
Width(in.)
17
225/60R17
99V
10.3
27.44
8.86
6.5J
480 A A
225/65R17
102T
10.3
28.35
8.86
6.5J
480 A A
235/60R17
102H
10.3
27.95
9.25
7 J
480 A A
235/65R17
108H XL
10.3
28.90
9.29
7 J
480 A A
245/65R17
107H
10.3
29.37
9.53
7 J
480 A A
245/70R17
110T
10.3
30.39
9.57
7 J
480 A A
265/65R17
112T
10.3
30.39
10.63
8 J
480 A A
265/70R17
115T
10.3
31.46
10.59
8 J
480 A A
18
235/55R18
104V XL
10.3
27.95
9.57
7.5J
480 A A
235/60R18
107V XL
10.3
28.94
9.25
7 J
480 A A
245/60R18
105H
10.3
29.57
9.76
7 J
480 A A
265/60R18
110H
10.3
30.31
10.43
8 J
480 A A
265/65R18
114H
10.3
31.42
10.47
8 J
480 A A
275/65R18
116H
10.3
32.01
10.87
8 J
480 A A
19
255/60R19
109H
10.3
31.06
10.24
7.5J
480 A A
20
265/50R20
111H XL
10.3
30.47
10.63
8.5J
480 A A
275/55R20
117H XL
10.3
31.65
11.10
8.5J
480 A A
275/60R20
115T
10.3
32.87
10.75
8 J
480 A A
Wheel Dia.
Tire Size
Tread Depth
(1/32")
Inflated
Dimensions
Rim
UTQG
Overall
Dia.(in.)
Overall
Width(in.)
17
225/60R17
99V
10.3
27.44
8.86
6.5J
480 A A
225/65R17
102T
10.3
28.35
8.86
6.5J
480 A A
235/60R17
102H
10.3
27.95
9.25
7 J
480 A A
235/65R17
108H XL
10.3
28.90
9.29
7 J
480 A A
245/65R17
107H
10.3
29.37
9.53
7 J
480 A A
245/70R17
110T
10.3
30.39
9.57
7 J
480 A A
265/65R17
112T
10.3
30.39
10.63
8 J
480 A A
265/70R17
115T
10.3
31.46
10.59
8 J
480 A A
Wheel Dia.
Tire Size
Tread Depth
(1/32")
Inflated
Dimensions
Rim
UTQG
Overall
Dia.(in.)
Overall
Width(in.)
18
235/55R18
104V XL
10.3
27.95
9.57
7.5J
480 A A
235/60R18
107V XL
10.3
28.94
9.25
7 J
480 A A
245/60R18
105H
10.3
29.57
9.76
7 J
480 A A
265/60R18
110H
10.3
30.31
10.43
8 J
480 A A
265/65R18
114H
10.3
31.42
10.47
8 J
480 A A
275/65R18
116H
10.3
32.01
10.87
8 J
480 A A
Wheel Dia.
Tire Size
Tread Depth
(1/32")
Inflated
Dimensions
Rim
UTQG
Overall
Dia.(in.)
Overall
Width(in.)
19
255/60R19
109H
10.3
31.06
10.24
7.5J
480 A A
Wheel Dia.
Tire Size
Tread Depth
(1/32")
Inflated
Dimensions
Rim
UTQG
Overall
Dia.(in.)
Overall
Width(in.)
20
265/50R20
111H XL
10.3
30.47
10.63
8.5J
480 A A
275/55R20
117H XL
10.3
31.65
11.10
8.5J
480 A A
275/60R20
115T
10.3
32.87
10.75
8 J
480 A A
Feedback