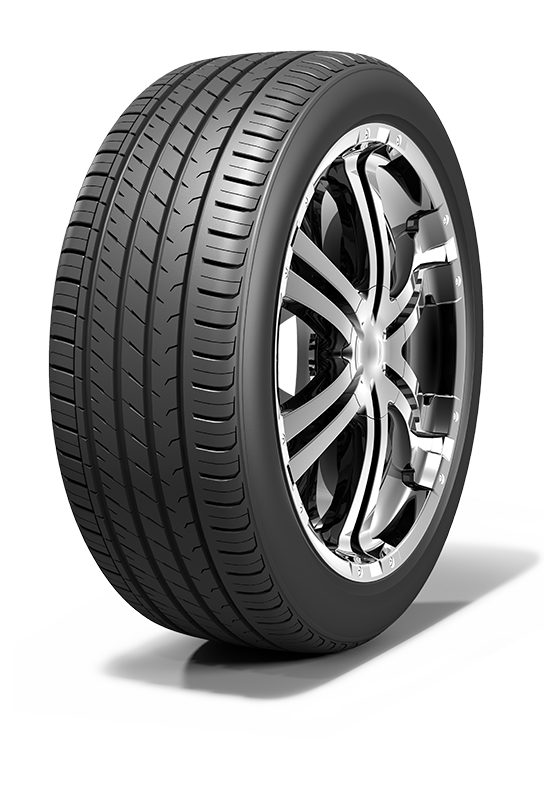 MAXMACH NM-31TH
Extra wide driving surface provide more contact with the road surface, creating more stability. Excellent handling and braking performance. NAMA HT driving surface is 3.0-5.0 mm wider.
The geometric cutting angle design prevents the tread blocks from curling when braking, maximizes the contact area of the pattern to distribute the breaking force more evenly.
The overall pattern arrangement make NAMA UHP more modern and quite fit the young generation's taste.
Optimized variable-pitch tread pattern design can effectively reduce noise and bring a quieter driving experience.
The increased and optimized void ratio of inner shoulder to effectively guarantees drainage, heat dissipation and outer handling.
Center rib adopts a noise filtering distribution design, the noise energy could evenly be distributed to a wider frequency range, avoiding energy concentration to frequency band that is easy to be perceived.
Sizes and Specs
ALL size
16"
17"
18"
19"
20"
22"
24"
Wheel Dia.
Tire Size
Tread Depth
(1/32")
Inflated
Dimensions
Rim
UTQG
Overall
Dia.(in.)
Overall
Width(in.)
16
195/55R16
87V
9.3
24.37
7.83
6J
420 A A
205/45ZR16
87W XL
9.3
23.11
8.11
7J
420 A A
205/50ZR16
87W
9.3
23.98
8.39
6.5J
420 A A
205/55ZR16
91W
9.3
24.80
8.35
6.5J
420 A A
205/60R16
92V
9.3
25.59
8.23
6J
420 A A
205/65R16
95H
9.3
26.38
8.07
6J
420 A A
215/55ZR16
97W XL
9.3
25.31
8.82
7J
420 A A
215/60R16
95H
9.3
25.98
8.58
6.5J
420 A A
215/65R16
98H
9.8
26.85
8.62
6.5J
420 A A
225/50ZR16
92W
9.3
24.72
9.17
7J
420 A A
225/55ZR16
99W XL
9.3
25.67
9.21
7J
420 A A
225/60R16
98V
9.3
26.46
8.86
6.5J
420 A A
17
205/45ZR17
88W XL
9.3
24.25
8.15
7J
420 A A
205/50ZR17
93W XL
9.3
25.04
8.35
6.5J
420 A A
215/45ZR17
91W XL
9.3
24.61
8.39
7J
420 A A
215/50ZR17
95W XL
9.3
25.35
8.90
7J
420 A A
215/55ZR17
98W XL
9.3
26.22
8.78
7J
420 A A
225/45ZR17
94W XL
9.3
24.76
8.90
7.5J
420 A A
225/50ZR17
98W XL
9.3
25.87
9.02
7 J
420 A A
225/55ZR17
101W XL
9.3
26.69
9.06
7 J
420 A A
235/45ZR17
97W XL
9.3
25.16
9.29
8 J
420 A A
235/50ZR17
100W XL
9.3
26.02
9.65
7.5J
420 A A
235/55ZR17
103W XL
9.3
27.09
9.53
7.5J
420 A A
245/40ZR17
95W XL
9.3
24.65
9.76
8.5J
420 A A
245/45ZR17
99W XL
9.3
25.55
9.57
8 J
420 A A
18
225/40ZR18
92W XL
9.3
25.00
9.09
8 J
420 A A
225/45ZR18
95W XL
9.3
25.83
8.82
7.5J
420 A A
235/40ZR18
95W XL
9.3
25.28
9.57
8.5J
420 A A
235/45ZR18
98W XL
9.3
26.22
9.25
8 J
420 A A
235/50ZR18
101W XL
9.3
27.44
9.57
7.5J
420 A A
245/40ZR18
97W XL
9.3
25.55
9.76
8.5J
420 A A
245/45ZR18
100W XL
9.3
26.61
9.41
8 J
420 A A
19
225/55ZR19
103W XL
9.3
28.78
9.17
7 J
420 A A
235/35ZR19
91W XL
9.3
25.47
9.49
8.5J
420 A A
235/40ZR19
96W XL
9.3
26.30
9.57
8.5J
420 A A
235/50ZR19
103W XL
9.3
28.31
9.65
7.5J
420 A A
245/40ZR19
98W XL
9.3
26.73
9.76
8.5J
420 A A
245/45ZR19
102W XL
9.3
27.68
9.57
8 J
420 A A
245/55ZR19
107W XL
9.3
29.65
9.96
7.5J
420 A A
255/40ZR19
100W XL
9.6
26.93
10.24
9 J
420 A A
275/30ZR19
96W XL
9.6
25.59
10.67
9.5J
420 A A
20
225/35ZR20
90W XL
9.3
26.14
9.09
8 J
420 A A
235/55ZR20
105W XL
9.3
30.16
9.65
7.5J
420 A A
245/35ZR20
95W XL
9.3
26.73
9.65
8.5J
420 A A
245/40ZR20
99W XL
9.3
27.68
9.76
8.5J
420 A A
245/45ZR20
103W XL
9.3
28.54
9.53
8 J
420 A A
245/50ZR20
105W XL
9.3
29.69
9.96
7.5J
420 A A
255/45ZR20
105W XL
9.6
29.06
10.04
8.5J
420 A A
255/50ZR20
109W XL
9.6
30.08
10.43
8 J
420 A A
255/55ZR20
110W XL
9.6
31.02
10.43
8 J
420 A A
275/40ZR20
106W XL
9.6
28.66
10.87
9.5J
420 A A
275/45ZR20
110W XL
9.6
29.80
10.63
9 J
420 A A
22
265/35ZR22
102W XL
9.8
29.33
10.63
9.5J
420 A A
265/40ZR22
106W XL
9.8
30.35
10.63
9.5J
420 A A
305/40ZR22
114W XL
9.8
31.42
12.28
11 J
420 A A
305/45ZR22
118W XL
9.8
32.72
11.89
10 J
420 A A
24
305/35ZR24
112W XL
9.8
32.32
12.28
11 J
420 A A
Wheel Dia.
Tire Size
Tread Depth
(1/32")
Inflated
Dimensions
Rim
UTQG
Overall
Dia.(in.)
Overall
Width(in.)
16
195/55R16
87V
9.3
24.37
7.83
6J
420 A A
205/45ZR16
87W XL
9.3
23.11
8.11
7J
420 A A
205/50ZR16
87W
9.3
23.98
8.39
6.5J
420 A A
205/55ZR16
91W
9.3
24.80
8.35
6.5J
420 A A
205/60R16
92V
9.3
25.59
8.23
6J
420 A A
205/65R16
95H
9.3
26.38
8.07
6J
420 A A
215/55ZR16
97W XL
9.3
25.31
8.82
7J
420 A A
215/60R16
95H
9.3
25.98
8.58
6.5J
420 A A
215/65R16
98H
9.8
26.85
8.62
6.5J
420 A A
225/50ZR16
92W
9.3
24.72
9.17
7J
420 A A
225/55ZR16
99W XL
9.3
25.67
9.21
7J
420 A A
225/60R16
98V
9.3
26.46
8.86
6.5J
420 A A
Wheel Dia.
Tire Size
Tread Depth
(1/32")
Inflated
Dimensions
Rim
UTQG
Overall
Dia.(in.)
Overall
Width(in.)
17
205/45ZR17
88W XL
9.3
24.25
8.15
7J
420 A A
205/50ZR17
93W XL
9.3
25.04
8.35
6.5J
420 A A
215/45ZR17
91W XL
9.3
24.61
8.39
7J
420 A A
215/50ZR17
95W XL
9.3
25.35
8.90
7J
420 A A
215/55ZR17
98W XL
9.3
26.22
8.78
7J
420 A A
225/45ZR17
94W XL
9.3
24.76
8.90
7.5J
420 A A
225/50ZR17
98W XL
9.3
25.87
9.02
7 J
420 A A
225/55ZR17
101W XL
9.3
26.69
9.06
7 J
420 A A
235/45ZR17
97W XL
9.3
25.16
9.29
8 J
420 A A
235/50ZR17
100W XL
9.3
26.02
9.65
7.5J
420 A A
235/55ZR17
103W XL
9.3
27.09
9.53
7.5J
420 A A
245/40ZR17
95W XL
9.3
24.65
9.76
8.5J
420 A A
245/45ZR17
99W XL
9.3
25.55
9.57
8 J
420 A A
Wheel Dia.
Tire Size
Tread Depth
(1/32")
Inflated
Dimensions
Rim
UTQG
Overall
Dia.(in.)
Overall
Width(in.)
18
225/40ZR18
92W XL
9.3
25.00
9.09
8 J
420 A A
225/45ZR18
95W XL
9.3
25.83
8.82
7.5J
420 A A
235/40ZR18
95W XL
9.3
25.28
9.57
8.5J
420 A A
235/45ZR18
98W XL
9.3
26.22
9.25
8 J
420 A A
235/50ZR18
101W XL
9.3
27.44
9.57
7.5J
420 A A
245/40ZR18
97W XL
9.3
25.55
9.76
8.5J
420 A A
245/45ZR18
100W XL
9.3
26.61
9.41
8 J
420 A A
Wheel Dia.
Tire Size
Tread Depth
(1/32")
Inflated
Dimensions
Rim
UTQG
Overall
Dia.(in.)
Overall
Width(in.)
19
225/55ZR19
103W XL
9.3
28.78
9.17
7 J
420 A A
235/35ZR19
91W XL
9.3
25.47
9.49
8.5J
420 A A
235/40ZR19
96W XL
9.3
26.30
9.57
8.5J
420 A A
235/50ZR19
103W XL
9.3
28.31
9.65
7.5J
420 A A
245/40ZR19
98W XL
9.3
26.73
9.76
8.5J
420 A A
245/45ZR19
102W XL
9.3
27.68
9.57
8 J
420 A A
245/55ZR19
107W XL
9.3
29.65
9.96
7.5J
420 A A
255/40ZR19
100W XL
9.6
26.93
10.24
9 J
420 A A
275/30ZR19
96W XL
9.6
25.59
10.67
9.5J
420 A A
Wheel Dia.
Tire Size
Tread Depth
(1/32")
Inflated
Dimensions
Rim
UTQG
Overall
Dia.(in.)
Overall
Width(in.)
20
225/35ZR20
90W XL
9.3
26.14
9.09
8 J
420 A A
235/55ZR20
105W XL
9.3
30.16
9.65
7.5J
420 A A
245/35ZR20
95W XL
9.3
26.73
9.65
8.5J
420 A A
245/40ZR20
99W XL
9.3
27.68
9.76
8.5J
420 A A
245/45ZR20
103W XL
9.3
28.54
9.53
8 J
420 A A
245/50ZR20
105W XL
9.3
29.69
9.96
7.5J
420 A A
255/45ZR20
105W XL
9.6
29.06
10.04
8.5J
420 A A
255/50ZR20
109W XL
9.6
30.08
10.43
8 J
420 A A
255/55ZR20
110W XL
9.6
31.02
10.43
8 J
420 A A
275/40ZR20
106W XL
9.6
28.66
10.87
9.5J
420 A A
275/45ZR20
110W XL
9.6
29.80
10.63
9 J
420 A A
Wheel Dia.
Tire Size
Tread Depth
(1/32")
Inflated
Dimensions
Rim
UTQG
Overall
Dia.(in.)
Overall
Width(in.)
22
265/35ZR22
102W XL
9.8
29.33
10.63
9.5J
420 A A
265/40ZR22
106W XL
9.8
30.35
10.63
9.5J
420 A A
305/40ZR22
114W XL
9.8
31.42
12.28
11 J
420 A A
305/45ZR22
118W XL
9.8
32.72
11.89
10 J
420 A A
Wheel Dia.
Tire Size
Tread Depth
(1/32")
Inflated
Dimensions
Rim
UTQG
Overall
Dia.(in.)
Overall
Width(in.)
24
305/35ZR24
112W XL
9.8
32.32
12.28
11 J
420 A A
Feedback