2022/07/07
New Coming: ST235/85R16 & ST235/80R16 Highway Pattern
NAMA adding a new highway pattern NM625 on ALL-STEEL ST235/80R16 & ST235/85R16 for commercial trailers.
The reinforced structure and upgraded tread compound ensure the tire with supreme loading capacity & durability.
And compared with traditional all-steel ST pattern designs, the new ribbed tread design increase the ground contact area to reduce the rolling resistance,
NM625 is a fuel-efficient pattern!
Now we have three choices, NM626, NM615, NM617, all for all-steel trailer tires, find our patterns below and welcome for inquiry.
No.

Series

Code

Size

PR

Load Range

Pattern

L.I & S.R

Tread Depth
(32nds)

Status

1

ALL Steel

NMST01201

ST235/80R16

14

G

NM615

129/125 L

13.8

ready

2

ALL Steel

NMST01202

ST235/85R16

14

G

NM617

129/125 L

13.8

ready

New pattern




















3

ALL Steel

NMST01311

ST235/80R16

14

G

NM625

129/125 N

9.45

ready

4

ALL Steel

NMST01312

ST235/85R16

14

G

NM625

132/127 L

11.34

ready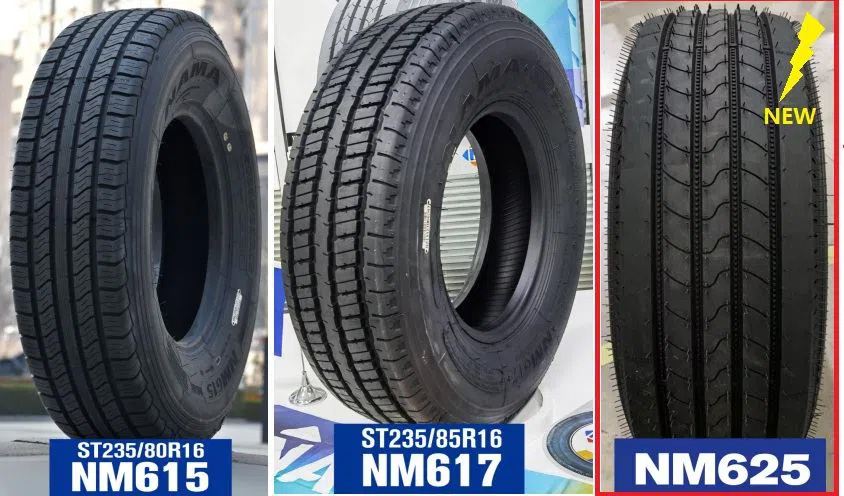 Hot Tags: new coming: st235/85r16 & st235/80r16 highway pattern, Chinese, manufacturers, wholesale, best, cheap, price, for sale