Run-Flat Tires
2018.02.23
WHAT ARE RUN FLAT TIRES?
A run-flat tire is a pneumatic vehicle tire that is designed to resist the effects of deflation when punctured, and to enable the vehicle to continue to be driven at reduced speeds - under 56 mph (90 km/h)-, and for limited distances - generally between 10 mi (16 km) to 50 mi (80 km), depending on the type of tire.
HOW DO RUN FLAT TIRES WORK?
There are two primary types of run flat tire systems: the self-supporting system and the support ring system.
In most self-supporting run flat tire systems, the tire features reinforced sidewall construction that will continue supporting the vehicle in the event of air loss. This construction allows continued operation after the loss of air pressure up to the speed and distance specified by the manufacturer.
Support ring run flat tire systems, on the other hand, employ a ring of hard rubber or another structure that can support the vehicle's weight in an air loss condition.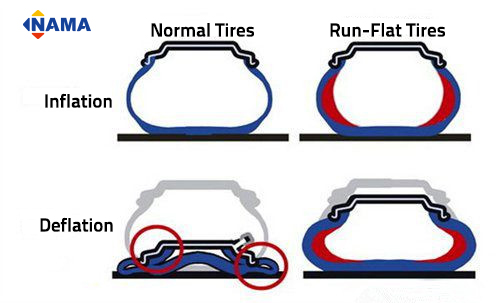 BENEFITS OF RUN FLAT TIRES
You don't have to change your tire in dangerous or uncomfortable conditions. This is perhaps the biggest benefit of run flat tires and is the one of the reasons why they were designed. With conventional tires, you have to replace a flat on the spot or have your car towed.
In a puncture situation, run flats are more stable than conventional tires. Since they're made to support your vehicle even when they contain no air, run flat tires will help you maintain better control in a complete air loss situation than conventional tires.