How tyres are made
2018.01.22
The manufacturing process of one tyre including mixing, calendaring & Extruding, cutting, building, curing and inspecting.
1. Mixing
Equipment: Mixer, Weighing System and etc.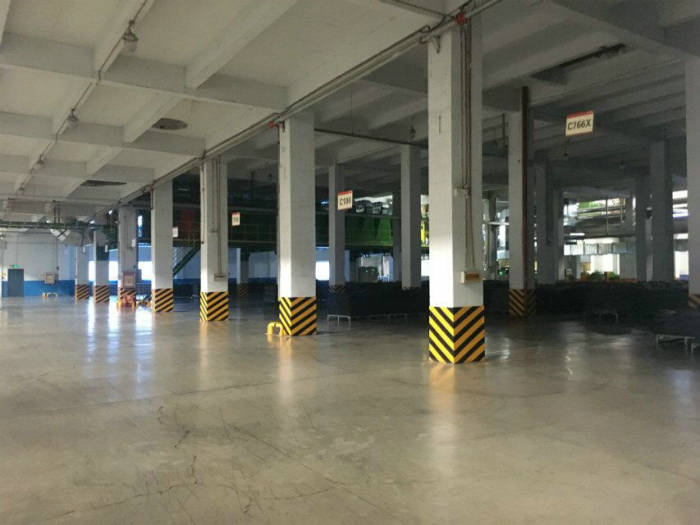 Up to 30 different kinds of rubber, fillers and other ingredients (like natural/ synthetic rubber, oil, carbon black, activator, antioxidant, vulcanizer and etc.) are used in tyre rubber rubber. The ingredients are mixed in giant blenders to create a black, gummy compound that will be sent on for extruding and calendering. The component of rubber decides its physical and chemical properties, all the rubbers will be 100% qualified lab test before send to next process.
2. Preparing of Semi-components
Equipments: Calender, Extruder, Bead Ring Winding Machine, Cutting Machine and etc.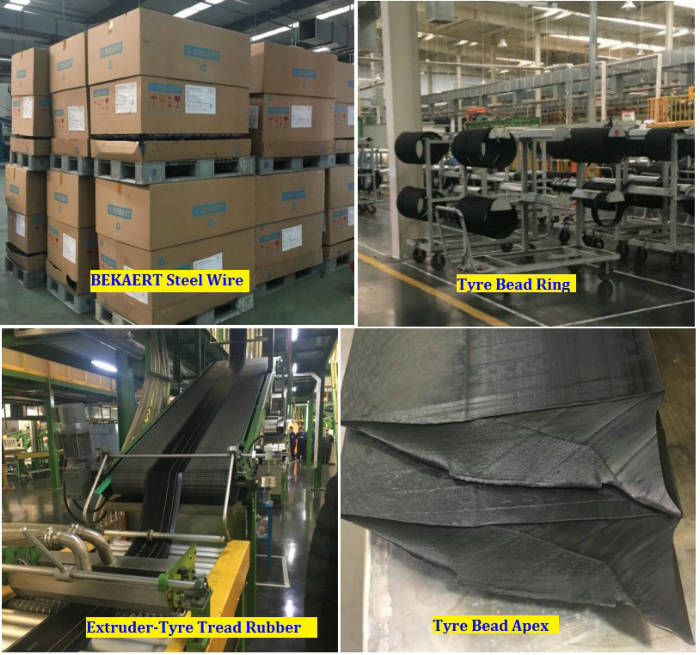 All semi-components of one tyre are mainly made by processes of extruding, calendaring, tyre bead ring molding, carcass and steel belts cutting.
Calendering: steel cord, fabric cord, 0°steel belts, cap ply and etc.
Extruding: tyre tread rubber, sidewall rubber, inner line, bead apex and etc.
Tyre Bead Winding: hexagonal bead ring and other sharp bead rings.
Cutting machine: Carcass, Steel Belts and etc.
3. Building
Equipment: Tyre Building Machine

It's now time to make the tyre – from the inside out. Tyre tread rubber, tyre sidewall rubber, steel belts, carcess, tyre beads and other necessary components are placed in a tyre-building machine. The result is a 'green tyre' – a tyre that is beginning to look finished. The green tyre will be sent to next process -- curing.
4. Curing
Euipments: Tyre Curing machine and etc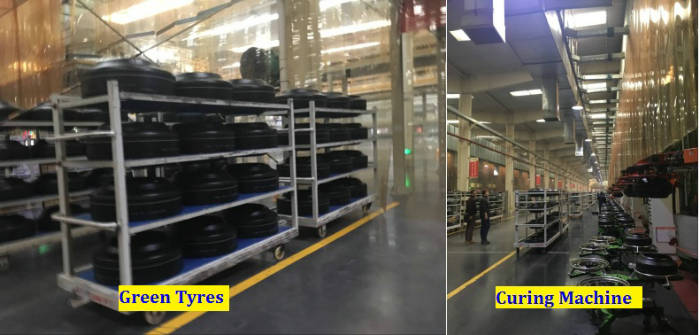 The green tyre is then cured with hot moulds in a curing machine with specific temperature, pressure and time varying from tyre sizes, compressing all of the parts of the tyre together and giving the tyre its final shape, including its tread pattern and manufacturer's sidewall markings.
5. Inspecting

Euipments: x-ray inspector, tyre uniformity inspector, dynamic balancing machine and etc.
First is the tyre appearance inspection by trained inspectors, then tyre will be sent to X-ray inspectors to check for potential internal weaknesses or failures on steel belt, carcass, tyre bead areas, next is tyre uniformity testing and dynamic balance testing to check the radial force variation (RFV), lateral force variation (LFV), lateral force deviation(LFD) and balance ability. And, the quality control engineers also randomly select tyres off the line and cut them open to do analysis on dimension, distribution of each component to ensure they meet our NAMA standards before it can be shipped for sale.