NAMA ATTENDED 2016 REIFEN ESSEN SHOW
2016.08.16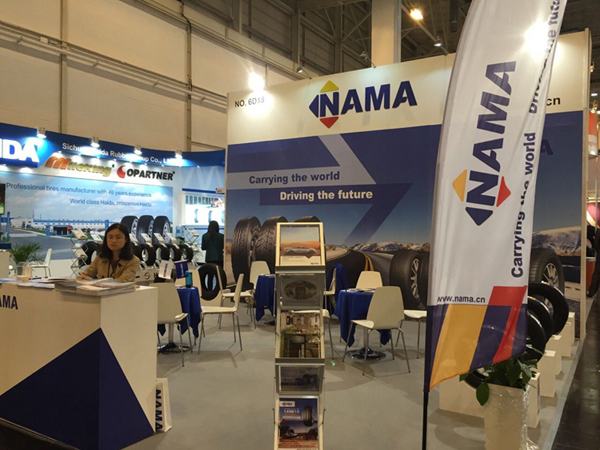 Our company QINGDAO NAMA INDUSTRIAL CO.,LTD attended 2016 REIFEN ESSEN SHOW from MAY 24th-27th, which turned a big success. We took this opportunity to launch our new projects, including ALL SEASON TIRES AND RUN-FLAT TIRES; SMALL SIZES TRAILER TIRES FROM 10"~16" like 135/80 R 13, 145r13,145r10, 145/60r13, 155r13, 165r13, 175r13,etc; 2ND LINE FOR HIGH END TBR WITH EU-LABLING with new patterns. Many clients showed their interests for these new projects, over 40% clients met in the show discussed cooperation details with us. All these new projects will be completed in 2016, our goal is to expand Europe market share around 25% within 2 years.
NAMA NEWLY LAUNCHED 2ND LINE TBR – CHINESE PREMIUM QUALITY
NAMA launched 2nd line TBR with premium quality on MAY 24th during ESSEN show, with Chinese highest quality production line from Holland VMI building machine, Germany TROSTER extruding machine, FISCHER belt cutting machine, France YXLON X-ray tester, America AKRODYNE dynamic balance test machine, Germany STEINBICHLER bubble nondestructive test machine, endurance test machine, etc, NAMA 2nd line TBR become outstanding from Chinese tires, this specially designed production line ensures tire production accuracy with beautiful appearance and meet all requests for clients especially for west Europe like Germany, main features like wider rolling surface, deep tread depth, longer mileage insured, strong tire body and structure with special anti-wear compound ensures tires can be retreaded 2 times.